I often provide a "StartHere" popup window as a convenient, self explanatory mechanism that provides even non-technical team stakeholders with easy direct access to the focal features of the project in the Demo Site. It is a consistent, common entry portal for all project stakeholders.
The StartHere popup displays useful descriptions and guidance commentary about the Demosite.
Once you're in the DemoSite, you can navigate seamlessly among the project features from the StartHere popup.
The StartHere popup always remains open on your desktop. You can return to it at any time.
The StartHere popup is easily updated with helpful information about recent additions and changes to the project.
Project guide and team newsletter
The StartHere popup encourages and enables non-technical Stakeholders to actively review the Demosite on their own. The Team can "cut out the middleman" when communicating with management Stakeholders.
Management Stakeholders have an easy-to-use presentation tool for enterprise consensus-building and client sign-off.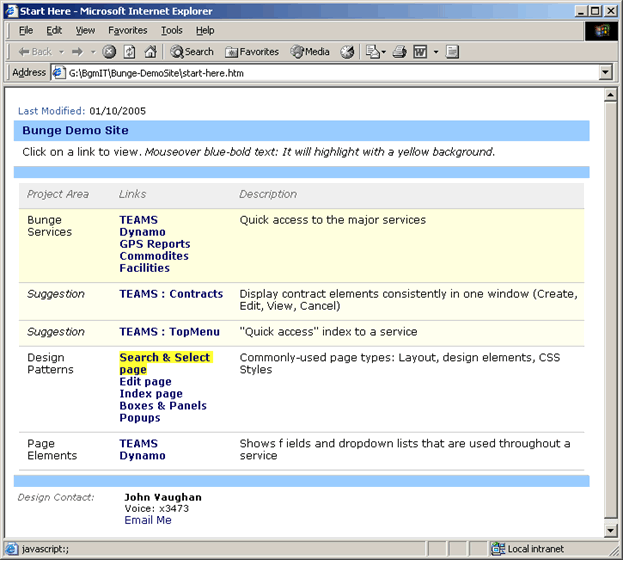 How It's Used
Click on the Services section links (TEAMS, Dynamo, GPS, etc.) to drill into those "clickable" core functional areas of the DemoSite.
The Suggestions sections demonstrate design techniques that UxP believes should become part of the overall site design.
The Design Patterns & Page Elements sections expose to the Project Team and Stakeholders how we manage the CSS Styleguide styles & layouts and "core entity" Information Architecture content that make up the Site. This is our online Style Guide.