This model is a shallow representation of the UI Design. It is a general image of how the site might look, feel and behave. It provides a model so that we can get a sense of the total picture. It is the design infrastructure environment in which we can solve design issues. It is - by definition - a work in progress.
The wireframe "templates" below show our organization & usage approach to each of the primary information areas in this corporate intranet site at the SCANA project, which is fairly typical of intranet challenges.
The pages presented here were created as an actively "clickable" live HTML model that demonstrates both the organization of information and the experience of interaction.
Efficiency = Competitive Edge
These screenshots represent some of "the usual suspects" found in most corporate intranets. This project design was based on a Sharepoint platform.
Go to the DemoSite document for how the DemoSite works.
Go to the SiteMap document for navigation s& organization.
Go to the Wireframes document for how we designed these pages.
Navigational Sitemap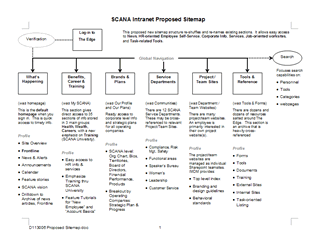 This is a high-level overview of the organization of the functional and informational areas of the intranet.
The detail info beneath each section describes:
Its "identity" in the legacy site
Brief description
Size and scope (# of pages)
Profile (featured content & functionality)
What's Happening (default homepage)
Marketing and Introductory overview The default landing page for the intranet site is a dashboard that gives you an overview of the site, time-sensitive information and updates, and "featured" info.
Newsy Content: Announcements, alerts, Featured News Stories, Corporate Video and Featured Employee
FastTrack Tools: Employee Search, Quick Links, FAQ's, Help, Introduction for New Employees
Promotional Materials & Marketing Wells
Benefits, Career & Training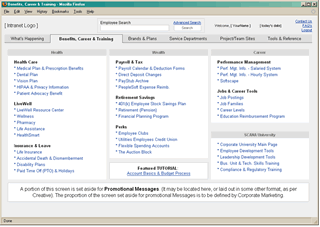 HR-oriented Employee Self-service You go here for access to HR-related services. This is the activity center for most intranets.
The contentsHealth, Wealth and Careers sections are front & center for quick access.
Corporate University "Training" and Educational component is given greater prominence.
Space is reserved for Promotional Messages. The Tutorial on Account Basics and Budget Process is featured.
The Organization
Corporate Profile and Strategic Vision You go here to get a sense of the structural environment of the enterprise: Who's who, what's what and where.
Click on the sidebar to view information about the Corporate-level and Subsidiaries:
Organizational Chart, Leadership Bios, Board of Directors, Territories, Financial Performance, etc.
The Strategic View & Investor Perspective
Service Departments
Standard corporate infrastructure services You go here for service support.
Provide good, consistent design guidelines and branding across all Service departmental websites
Help stakeholders to "push" their services out to employees.
Cross-reference to appropriate Tools and Project/team sites.
Display relevant Task-oriented links related to each Service Department.
Project / Team Sites
Job-oriented assistance, collaborative worksites You go here to get a job-centric view of the enterprise that is individualized to your team role.
The sub-sites are managed by individual stakeholders
Appropriately cross-referenced
You can Create a New Site.
You have search tools
You can identify and store your favorite sites under My Team Sites.
Tools & Reference
Task-related tools You go here to get access to any of the functional tools & resources.
Archive knowledge on all tools, forms, docs, training and related site links into this repository

Display description & usage info for all resources

View sorting by categories (by title, function, or organizational grouping)
Task-oriented Listing guides you to relevant resources
View the case study in my portfolio: SCANA