Insurance Portal Intranet
Allied North America
"From-the-ground-up" design of a national intranet at construction risk management-oriented insurance company - as a front-end to SharePoint platform.
The Value Proposition
Allied was able to "hit the ground running" with easy-to-implement templates and UI design components.
Brand News section allowed marketing teams to share successful collateral and strategies collaboratively
Challenges
Allied had grown recently through acquisition. They needed to provide a corporate intranet in order to service their offices.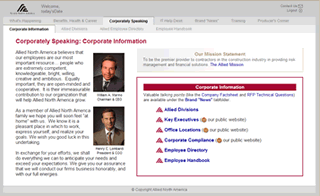 Gather informational & service collateral
Organize & guide the design process
Reconcile look & feelacross multiple organizational units
Integrate functionality
Reinforce entrerprise identity
Allied had a strong need for an easily manageable Content Management System. They selected Sharepoint as their platform.
Solutions
Our design solutions must be easily integrated within the Sharepoint platform.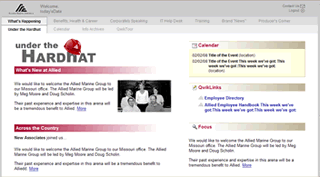 Clickable site model conforms to the workflow, allows stakeholders to sign-off on the experience, and serves as design guide for the development team
Style - The "look" had to be seamless with the presentation capabilities of Sharepoint
Branding and styling based on Allied's established style guides
Easily editable templates allows Allied to easily "micro publish" a corporate newsletter
Content management strategies
Redesign the interface for Allied's innovative client self-service product, MySocrates