Health Content Strategy
United HealthCare
Advertising agency
Rosetta
turned to us when they needed someone to guide their
Content Strategy
in redesigning Employer, Broker and Member websites for United Healthcare.
The Value Proposition
Challenges
The legacy United Healthcare websites really needed a redesign. The client described their own site as "looking like it was created in 1999." It clearly lacked Branding or styling. Content was disorganized. Site and page Structure were obscure and confusing.
The bulk of the site was information retrieval-oriented. UHC was surprised to discover that they had more than 500 documents stored "under the hood".
The most highly-used area of the site was a limited functional task-oriented section that provided tools to manage Employee Records - though the tools themselves were poorly-defined and awkward to use.
Heuristic Analysis: Evaluate what works (or doesn't) and assess its conformance to UX "best practices".
Content Inventory: Map what site collateral is where - and what it's worth.
Taxonomy: Identify, group and label the logical and practical "architecture of the information".
Content Solutions Matrix: Define a pathway towards design solutions (i.e. reorganizing, restructuring, renaming).
Mentoring: Advocate and explain the solutions and techniques embodied in our deliverables.
Solutions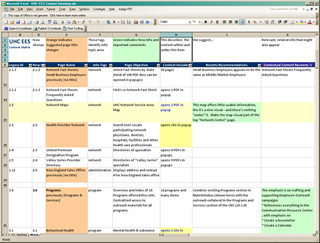 We convinced the ad agency to use our custom TCS Content Inventoryand Solutions Matrix template format for internal and client presentations to United Healthcare.
It captured and mapped critical information in a clear, attractive, at-a-glance format.
Value-Added Design Recommendations
Make Outreach (corporate marketing campaigns) a major performance thrust of the site.
Provide a centralized Resource Library as a common repository for info retrieval collateral.
Implement useful FAQ's (based on Call Center data) to guide people towrds useful, usable info.
Pre-package relevant links on the basis of metadata "Topic Tags".
Bring sites into conformance with industry-defined Accessibility Standards