Portfolio Showcase : 2008 - Present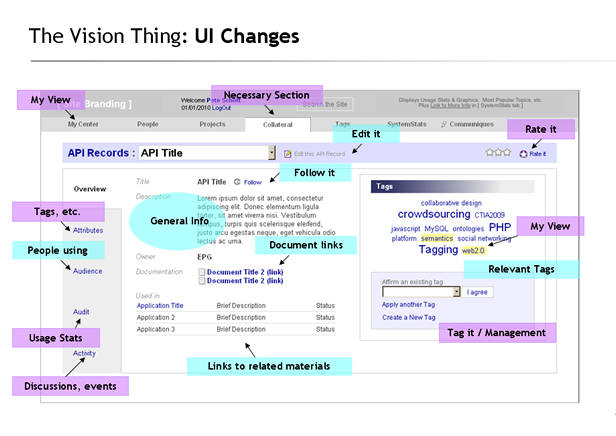 User Experience
is now a Buzzword in Good Currency.
Everybody's doin' it. And it's mandatory.
Social networking is the goal and FaceBook is the model.
Content Management is now leveraged as "Business Intelligence".
Presentation must be responsive to all platforms - and optimized for mobile.
Semantic tagging allows our interactions to be intelligently self-aware.
Responsive Social Self-Aware Mobility rules
Virtual Models
Traditionally, the project team was driven by program code generation - but recently programming skill has become a commodity item. After a decade of off-shoring and outsourcing, companies now look to User Experience as the point of integration for Business, Marketing and Technology.
The focus of effort is now defined under the UxP Umbrella.
My recent projects have all involved significant Telecommuting (i.e. self-management), as well as orchestrating the "virtual team".
The Agile-Virtual Environment demands effective communication: Good Documentation defines the Guidelines for Success
That's How It All Fits Together
Social, Seamless & Agile
Ever-smaller, more powerful appliances means that design functionality & features are component-ized for modularity. We're app-happy.
On the team process front: Accelerated SDLC makes for a more intense, fluidly "agile" design environment.
Seamless meaningful, personal experience assumes a robust Information Infrastructure.
Semantically Self-Aware
We expect our interactive tools to echo our level of awareness and assumptions. Now it's all personal.
We're moving towards a highly customizable information architecture: The Semantic Web.
2008-Now
Drill down for more detail.