Martial Arts Gym
MuayThai Chinnarach
This Thai kickboxing martial arts ("the Art of Eight Limbs") training camp website really needed a
makeover
. Edited their collateral, reorganized it, and re-skinned it, adding
mobile
capability.
Small Business
The Value Proposition
Site is mobile-enabled, goal-focused in order to reach target market of young, western males traveling abroad
Colorful, simple design enables quick access to satisfiers and obvious Calls To Action for registration, costs & plans
Templates: easy to self-manage & update
Challenges
Their legacy site design had several problems, among them: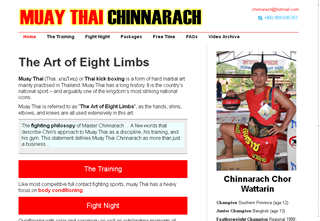 Too many menu headings, scattered presentation
The site focus was really on videos of their in-house staff fight matches
The videos themselves are too long, of unimpressive quality, without context, and focus on their staff rather than on customers
Information of interest to likely customers is scattered and hard to find
Embrace the Story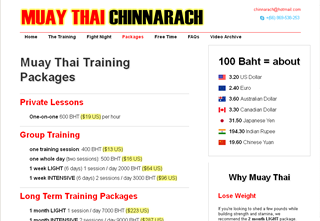 Customers are overwhelmingly non-Thai Westerners.
Customers are there to lose weight and get in shape (novices) or train for a fight (experts).
Customers - especially the novices - come to the gym in order to enjoy the party environment of the island.
A fair number of customers are "walk-ins" - people who are already vacationing on the island.
Mobile access is a necessity.
Solutions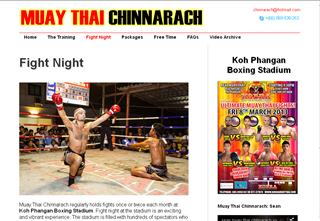 The solution, as ever, is customer-centricity.
Address the recognized customer profiles in the site content and structure
Articulate the gym's services in terms of identified customer needs
Simplify and direct the site paths towards goals - which includes a robust section on Free Time