Process-Oriented B2C
HP Curran Appraisals
Workflow and
process-oriented
redesign of customer-facing
B2C service
. In addition to producing a nice
brochureware
site, our focus was on making Peter's underlying business process easier to manage.
The Value Proposition
Fixed the design mess left by a previous service provider
Guidance & consultation for a web novice
Put client's business "on the web" (customer-facing self-service features & back-end business tools)
Establish an appropriate, attractive, powerful brand, aided by social networking
Full-Service Design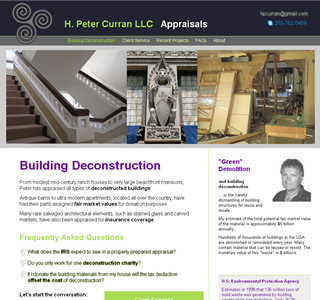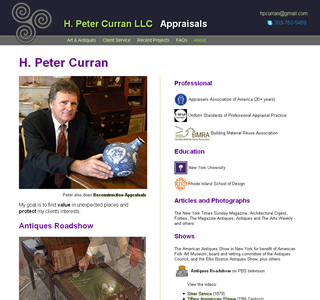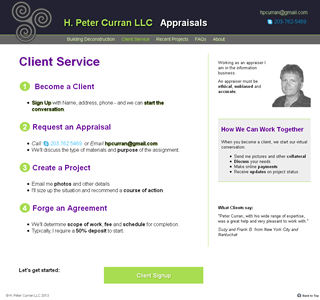 Audience
HP Curran Appraisals actually serves two very different business audiences - Arts & Antiques and "Building Deconstruction" (the careful dismantling of building structures for reuse and resale). Our design gracefully services both client markets seamlessly.
We needed to design personalized, targeted online experiences for each, while offering a seamless environment for both.
Process
Peter's Business Process was a major agenda: The desire to ease (automate) his own workflow and also allow visitors to self-service.
Customer Acquisition ("turning visitors into clients")
Simple forms with automated email response
Client Project Management
Online information entry and ongoing maintenance
Easy Payment
Flexible online services (PayPal integration)
Client Self-Service
In order to ease visitors towards "self-service", we presented straightforward Step-by-step guidelines for how to :
become a client
set up a project
work with Peter
make payments
We also leveraged Peter's extensive knowledge by exposing useful, relevant information through cross-referenced FAQ's.