Portfolio Showcase : 2000 - 2007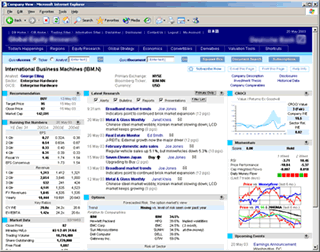 By the mid-90's the graphical Web had caught the imagination of the world.The interactive online dream was still alive - and evolving - but now it was on ... the internet.
The Web eventually re-emerged as a more mature environment - in part defined by the emergence of the UI-oriented disciplines that are the origins of User Experience .
We began to look at the usability arena as both an Art and a Science.
We Get Down to Business
Interactivity gets Serious
Despite the bursting of the The Internet Bubble in 2001, even traditional businesses still continued to move their enterprises toward the Web platform. This was an era of big portal engagements. It became clear that one of tne of The Challenges Ahead was to effectively integrate User Experience into the conventional Corporate IT milieu.
My primary design toolset evolved during this active period to include Dreamweaver, Contribute, Fireworks, CSS Stylesheets, DHTML, Javascript and Flash and Ajax techniques.
I pioneered effective UI management strategies for working hand-in-glove with enterprise development teams on a range of popular platforms, such as ASP, JSP, .NET, PHP, SharePoint, and Java Server Faces.
UxP Becomes Business-like
Players in the interactive arena must address integration and infrastructure-related issues. Business, Techside and Marketing liaise about about how to make User Experience part of their total solution.
That's why we need to think of UxP as a Business
During this period I focused on financial market applications because they offered the greatest interactive design challenges: Complex workflows, a well-defined business case, rich functionality, multi-channel strategies, and the integrated "portal".
Success is based on understanding How It All Fits Together.
Making IT Work
Anyone who wants to compete in the interactive space must understand how the User Experience Practice fits into their organization.
It's a delicate dance: Evangelism and Education are a big part of the solution.
The role of the User Experience professional is to articulate and advocate the vision for the role that's emerging within the enterprise.
It's A Manifesto of Sorts.
2000-2007
Drill down for more detail.