Community Recreation
Lake Parsippany Property Owners Association (LPPOA)
As a community member, in 2005 I volunteered to help redesign the existing Lake Parsippany Property Owners Association (LPPOA) website with an eye towards both
service and outreach
.
The Value Proposition
Challenges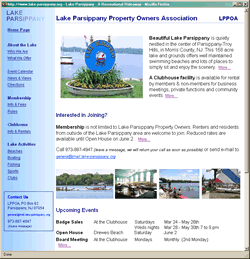 From a design perspective, the legacy LPPOA site was rudimentary and didn't quite fulfill the organization's needs. over the course of several meetings, it soon became clear that they needed a manageable platform that would allow them to:
Support the existing membership with self-service info
Build new membership
Market the Clubhouse
In addition, the new site should offer a more attractive look, be easy to use, and be easily maintained by volunteer members.
Solutions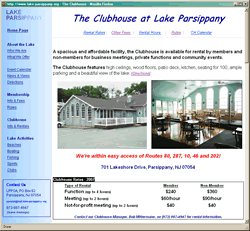 Our solutions included:
Assessment of the LPPOA's needs
A workable website that conformed to the workflow.
Reorganization of the site and it's collateral into a consistent, simple site map and content management structure
A set of simple, clean, easy-to-manage page templates that could be maintained & updated by non-professional volunteers
Implementation & site management guidance to the volunteer members