Equity Research Portal
Deutsche Bank Equity Research
The IT department at this large international bank needed help - and fast. They wanted to integrate incompatible corporate sites that had been published by their international offices into a client-facing portal, while also providing cross-selling of their services, as well as substantial new functionality. Their previous high-priced consulting agency had left them with a smaller design budget and little else.
The Value Proposition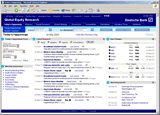 Today's Happenings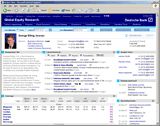 Analyst page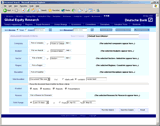 Search page
Equity Research Site Re-Design
The client did not have a solid design plan in place, so "scope creep" was a real issue. I worked with the business unit to nail down a coherent design plan and provided DB's unseasoned project team with guidance on effective process and documentation. Design mandate:
Design a customer-centric service
Tie together a diverse range of sites with fluid navigation and an easily-understandable structure
Emphasize the cross-selling of Deutsche Bank's financial services
Implement consistent "look & feel" standards and behaviors
Successfully delivered the global redesign of Deutsche Bank's complex Equity Research site to high standards and on schedule.
Provided a clickable site model that conformed to the workflow and served as design guide for the development team.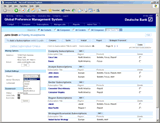 Subscription Overview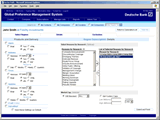 Select Regions

Preferences Manager Workflow
DB management was so impressed with our work that they asked us to stay beyond our original contract in order to help out the Preferences Management tool design team that was still struggling.
We worked closely with the corporate business-side client to deliver attractive, easy-to-understand screens that appropriately reflected the company's fulfillment workflow.
We provided design guidelines to the team and redesigned a suite of Deutsche Bank's most mission-critical pages, focusing on:
Subscriptions Management
Client, Contact & Company Profiles
Directory, Search and Records Management tools