High Net Worth Financial
The Hartford / High Net Worth
This well-established major financial firm needed to rollout their new
customer and client-facing service
in a short period of time. Since the online site is intended to deliver customer and client self-service, true "
ease of use
" was the focus of this UI makeover / functional redesign.
The Value Proposition
Challenges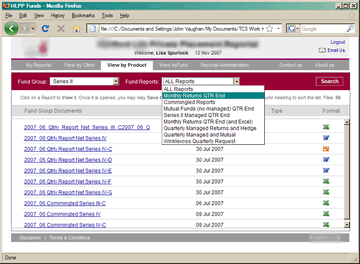 TCS was brought in to redesign the site structure and page design around the existing functionality and data structure. The site needed to be easily accessible by several user profiles:
single Clients
multiple-entity Clients
Administrators (with domain control)
Super-administrators (with global control)
Users needed to view documents and records across different "views" that conform to their tasks and goals.
Solutions
Clickable site model that conformed to the workflow and served as design guide for the development team.
It allowed the stakeholders to get a real feel for the site experience
Design theme consistent with the corporate branding.
Navigational structure organized the workflow and information in a natural and client-centric fashion.
Organized data and records into easily understandable groupings.