Educational Community
SchoolNet
This portal to educational services supports The administration of "
no child left behind
" mandates facing the primary and secondary school systems. Their in-house UX Practice needed some senior assistance in preparing their
Sharepoint
-based site for a new software release.
The Value Proposition
Rapid Modeling of UxP Solutions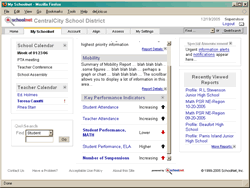 Schoolnet's UxP team needed to come up with readily-accessible "dashboards" that could be easily configured using Sharepoint and Webparts to meet the custom needs of supervisors, principals and teachers.
As the most fluent RAD designer on the team, I was charged to deliver working HTML prototype models quickly.
The Bulletin Center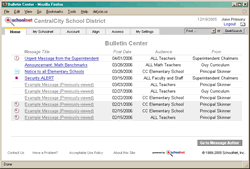 I was also the lead UxP designer for the new messaging feature:
Capture requirements and workflow
Design the screen interface
Define Webparts components
Provide a clickable site model that conformed to the workflow, allowed stakeholders to sign-off on the experience, and served as design guide for the development team.