Showcase New Product
ABN-AMRO
International bank ABN-AMRO tapped award-winning ad agency STEIN ROGAN + PARTNERS to roll out a major advertising campaign for their new structured product in the US market. The product-oriented mini-site built brand identity among broker dealers and full service brokerages.
The Value Proposition
Challenges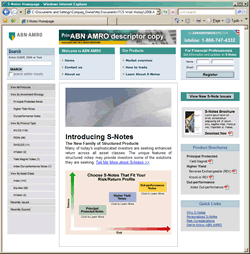 Take the existing print collateral on the S-Notes product and turn it into accessible source of online information.
Be simple, straightforward, and easy to use
Emphasize the competitive advantages of each product to the target audience
Reinforce the ABN-AMRO brand
Solutions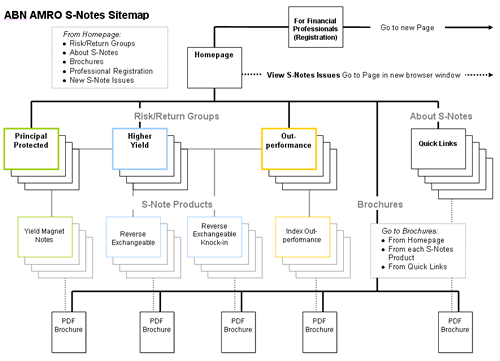 Workwith SR+P account management and creative personnel to craft these solutions:
Created a sitemap that organized the 3 product areas into easily accessible modules: a brief Overview, Risks & Benefits, a practical Example, and Hypothetical Performance Results, as well as PDF "printable takeaway" files.
Provide a clickable site model that conforms to the workflow and serves as design guide for the development team, with a color theme that was consistent with the rest of the client site branding.

was named 2005 Agency of the Year by BtoB Magazine.
Quick turnaround - TCS delivered this 35+ page clickable model site in less than 2 weeks.