Corporate Portal Design
Morgan Stanley / on Staff
Morgan Stanley's Equity ResearchLink service competes with several other well-known firms to push equity research documents to their institutional investor client base. The website allows their clients to customize the criteria on which they receive information. The firm had already spent a huge amount of money (both outsourcing and internally) in trying to make the experience of their site more competitive when they hired me in 2001 to bring some closure to the process.
The Value Proposition
Challenges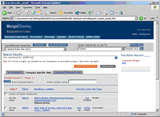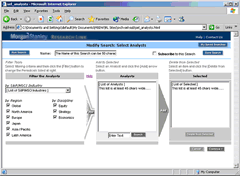 Morgan Stanley competes with several other well-known firms in providing research to their institutional client base. The customer's primary experience of the service is through the many electronic alerts they receive every day. The customer is already inundated with research that is pushed out to them by competing firms. The flood of redundant and irrelevant material is often experienced as "information overload". The competitive challenges were:
Glean the data to provide only targeted information
Quality - not just Quantity
Speed the interaction
Appropriate Default Paths - not just Choices
Personalize the customization process
Service - not just Product
Focus on Subscriptions
Let's Get Down to Business
Redesign of Flagship Product
Although Equity ResearchLink serves as a passive searchable "library" of research data, its primary purpose is to encourage Morgan Stanley's clients to subscribe to custom search criteria on which they receive emailed content that reflects their interests. My primary mandate was to enhance the interface of this mission critical application.
Provided a clickable website model that conformed to the workflow and served as design guide for the development team.
Enterprise-wide Standards: Corporate Portal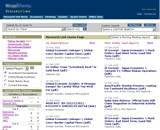 As the interaction design representative for Morgan's flagship Equity Research application, I worked with the "OneLook" corporate portal interface team to strategize solutions to address global contextual design issues (banners, navigation hierarchies, breadcrumbs, display footprint, browser compliance).
I also advocated and educated the members of on the value of XML tools in facilitating integration across the enterprise.
E-Mail "Push"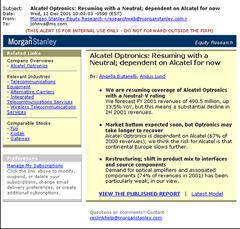 Our clients were deluged with a barrage of equity research intelligence from us and our competitors. One of our mandates was to differentiate our service and make our email alerts of equity research intelligence competitive. The emails had to be concise, intelligible, targeted to our clients needs and easy to leverage.
Our solutions included relevant cross-referencing, accelerated links and lean design.
Online Help
Equity ResearchLink lacked any useable guidance tools. At the request of the Marketing group I proposed and prototyped an integrated set of appropriate customer assistance solutions:
an introductory overview slideshow
context-sensitive targeted "how-to" wizards
mouseover popups
glossary reference popups
a cross-referenced sitemap
a standard graphically illustrated help index
UI of Data
I supplied interaction design services to a production team out of the UK who were prototyping a tool that would allow internal Morgan Stanley analysts to perform scenarios and modeling on industry data.
The initial mandate was to redesign the page interface and navigation structure of the data modeling tool itself. I was able to correct the numerous design flaws in this complex data manipulation environment.
Once they were satisfied with the new interface design, the coding team approached me about how we might implement XML tagging structures in the subsequent rollout of their product. They were pleased that I was able to provide them with a seamless page development path.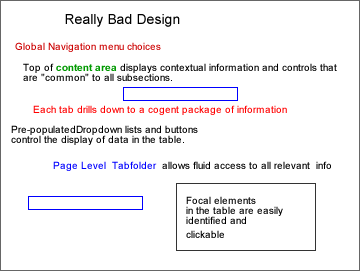 Before

The legacy design was a mish-mosh of distracting colors, layout that sprawled across several screens, inconsistent behavior, redundancies, dead-ends and omissions. The workflow was confused and the display of complex data was smeared across several "screenfuls" of data.

After

The poor legacy design was replaced with a consistent set of lean, incremental pages that made it possible to grasp the data and the workflow "at a glance"


Development Infrastructure
A big part of my role was to educate, advocate, inform and establish manageable processes for implementing interface redesign on a "live" product. I produced working prototypes, documented change, established stylesheets, maintained clipart/template files, standardized behaviors and libraried metadata tagging systems.
I became the gatekeeper for design "best practices".
XML/XSL Transitions
Worked with document publishing side of the equity Research group to implement XML/XSL solutions for the maintenance/transformation/distribution of research materials in appropriate formats.
The manager was pleased (and surprised) that - as a "front end design guy" - I not only understood the business case and conceptual issues but could be proactive in proposing appropriate solutions to this content management issue.