In-Bank Direct Sales
Prudential Insurance
Prudential already had an online public-facing website that allowed customers to apply for term life insurance in a
self-service environment
. The next phase was to provide an in-bank version of the web-based service which would allow client Bankers to assist their customers in buying term life insurance from their desk in the bank.
The Value Proposition
Challenges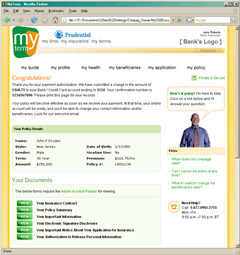 Because of the complex Banker/Customer process in the in-bank environment, we needed to:
Identify workflow deltas between the customer self-service and banker-assisted models
Integrate the Banker-oriented application tofunction seamlessly with the existing public site
Reconcile Customer Acquisition with Post-Issue support,
Liaise with marketing designteam to deliver direct marketing messages
Stylistically seamless with the "public" customer self-service site
Solutions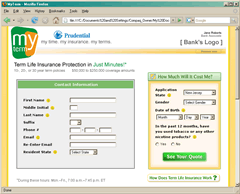 "Across the board" services:
Identify, record and reconcile business needs that were unique to the in-Bank environment
Liaise with and identify stakeholders to resolve practical issues
Extensive prototype modeling (including task-oriented workflows)
Design management
Administrative Management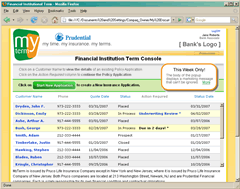 TCS identified one of the unanticipated challenges of this project: Prudential needed to provide effective management tools for the Bank administrators.
We worked with the business side to help identify necessary business rules and then modeled a set of screens to handle these additional processes in a flexible, scalable fashion.