Customer-Facing Insurance
the NIA Group This total redesign for a customer-facing insurance aggregator website involved working directly with the CIO and Marketing Director to deliver a targeted, customer-centric site that generates viable sales leads.
We learned what the stakeholders wanted to accomplish, identified customer needs, and discovered what collateral and tools they had available.
The Value Proposition
Our solution featured colorful, simple, flat design - a bit ahead of the curve in 2005 - It embraced their corporate brand and personalized the face of their business
Focus on templates and process to allow easy maintenance & updates by NIA staff.
Integrated their marketing collateral with customer self-service tools
Challenges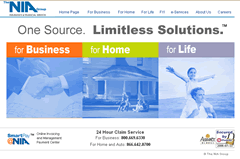 The old bland, product-oriented legacy "brochureware" site did not satisfy the NIA's active marketing needs. The first step was to bring some sensible organization to the collateral that was offered in the legacy site: Site Structure, Navigation, Layout, Information Architecture and Terminology.
It embodied poor visual design
Structure was awkward hard-to-use
Site's presentation and message did not reflect enterprise branding
Solutions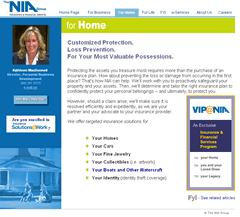 The makeover site is

simpler & friendlier

, offering attractive, personalized presentation and service-centric structure.
We emphasized client outreach
Brought the unique strengths of the business to the forefront
Gave a friendly human "face" to the enterprise (the web style seamlessly leverages visual themes from the NIA's corporate stylesheet)
Update (as of 2012): NIA has since been acquired. Some of the look and feel that we designed still persists in their website, but the new corporate portal packaging is not an improvement.