The graphical "design-y" aspects of User Interface and Interaction Design are a big, big part of the user experience. Without organization, they are merely decoration.
There's a lot of overlap among the different visual techniques offered here. These are just some high-level observations. You could write a book...
In early days of IA/UxP (before we had the fancy titles), we were often referred to as "Souped-up Graphics Artists".
Identity, Maps & Icons
Visual technique has always been an important UI skill in a screen-dominated environment. These visual shortcuts & cues are particularly critical now, with the ubiquity of small-screen handheld devices and a desire for speed, speed, speed.
Identity

TheElectronic Sales Assistant needed an identity. I felt that these simple geometic shapes offered a distinctive "look" that was unique, dynamic and subtle.
CityTime is a "time management" tool for city services agencies. The idea here was to present a cityscape. The colors of the sky, silhouette and logo might change gradually to indicate the passage of time.
The "You-Eye Guy" was probably the first ever unique brand identity that I designed, circa 1971. Like, wow.
Over the years I used the TCS Eyeball to brand several ventures.
Maps
Sitemap
This is a Visual Expression of how the service is logically organized.
It usually presents the structure of the site as a logical hierarchy.
See it in context:Sitemap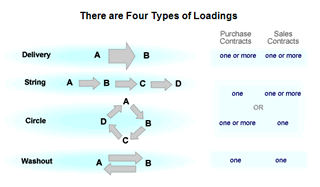 Illustration
This is a Visual Expression of the different "types" of Contracts.
It helps explain the relationships.
See it in context: User Assistence
Task Flow
This is a Visual Expression of the interactive process.
It lays out the roles, activity and workflow .
See it in context:Design Specifications
Icons


Airport (1984)
I also design custom icons for use within the interactive environment.
If the UI can be self-explanatory or indicative - without clutter - it's a good thing. People learn it pretty quickly. The classic underline-indication-that-This-Is-Clickable is a good example. In fact, it's so much of a "given" that you don't find the underline as a purely decorative style in most interactive interfaces.
The ability to include a lot of different "sideways" & referential path links in a page is a mixed blessing - esp. since - in a complex info environment - you might be opening up new browser windows or in-page popups.
I like to use icons embedded in CSS styling to indicate "out of the mainWindow" links. For example:
a globe icon indicates that we're opening an outside-of-this-site WWW page in a new browser window
a document icon or PDF icon opens a reference document in a new browser window
a question mark icon opens an FAQ or Help popup
Each of these usually has visible text in the label, as well as a mouseover tooltip explanation that helps prep you for what's coming.
Here are a few examples:
Actions

Open a Webpage

Edit this

... are visual calls to action

(expecially for clickable elements)
Attributes

Task Done

Rising, Growing

Endorsement
... indicate qualities
Functionality
... describe how something works
Symbolism

Brand Identity

Document Type

Nation/Region
... identify "types" of information