Videotex was the Web
In the early 80's large industries and governments around the world made a bold foray into the future with something called "Videotex": interactive digitial online services. Wikipedia: Videotex
Graphical, Consumer-oriented, and Easy-to-use.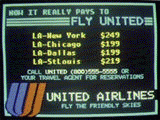 The most "Web-like" of the new digital media applications were the online wired services. The connection of Videotex made it possible to offer a range of highly interactive market services.
There were also a range of slightly less interactive - but still highly dynamic - implementations of this exciting new platform in additional market areas, all of them employing what we would today call a "browser".
One of the first visionary models for the emerging consumer interactive arena was:
The Home Information System Study at Booz-Allen Hamilton in 1981.